ViaTV Videophones: Real Stories A Success Story

Showing Off: 8x8 ViaTV Demonstrators Work COMDEX
Without Going to Las Vegas

Three of the four 8x8 demonstrators had been to the world's biggest electronics trade show held annually in Las Vegas before, but this year they stayed home. However, they still participated in COMDEX even though they weren't in Nevada fighting the crowds, staying in hotels and standing on their feet all day.

How did they participate in COMDEX without being there? Via ViaTV Videophones, of course. 8x8 hired the actresses/spokespersons from Andrea Patrick Talent, a San Francisco agency, to demonstrate the ViaTV units. They sat in front of TVs and telephones equipped with ViaTV Phones at 8x8 headquarters in Silicon Valley. These units were connected by standard phone lines with other 8x8's videophones in the company booth at the Sands Convention Center.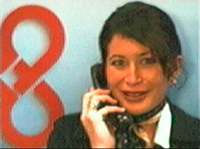 Seen on TV screens in Las Vegas, spokesmodels could eye conventioneers passing by and encourage them to stop and try the ViaTV Phones. All of the women appreciated the experience of videoconferencing with the convention, enabling them to go home in the evening and continue on with their own private lives.
Mary Ann Poinsignon
"This experience has been great. I'm working in a very relaxed environment compared to COMEDEX which can be so chaotic. I feel I can give every client individual attention," said Mary Ann Poinsignon, a trade show spokesperson. "I could do this every day it's so much fun."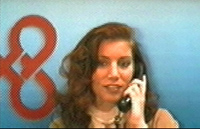 "I travel a lot and it's so refreshing to 'experience' COMDEX without experiencing trade show food, aching feet and long lines for taxis," says Patrice Michaels, an international trade show spokesperson. "8x8's ViaTV Phone is an incredible way to maintain contact with my family and friends all over the world!"
Patrice Michaels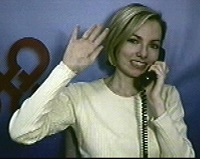 An actress who worked her first COMDEX, albeit from a distance, Rhonda Griffin talked about the ViaTV Phone technology, "It's amazing. It's wonderful to able to see my family on the East Coast." Rhonda predicts the future with videophones, "In a couple of years, we will all have one."
Rhonda Griffin
"I don't miss being at COMDEX because I feel like I am there through the ViaTV Phones. I see, hear and feel the craziness and hype of Vegas, but I'm much more comfortable and I don't have to deal with traffic, airports, hotels and sore feet," stated Mia Liban, a Bay Area model and actress. "George Jetson really was predicting the future. In five years, videophones will be as common as the cell phone is now. This is another part of the technology that is bringing the world together and making it smaller."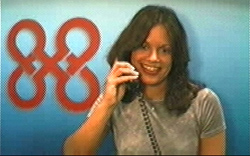 8x8's ViaTV Phones are really the next best thing to being there. You don't need a computer, just your television and your telephone.






Mia Liban
Photos are authentic ViaTV screenshots.