The Video Conferencing Solution for Everyone
Videophones turn any TV and touch-tone phone into a videophone. And video phones use standard telephone lines, so a video call costs the same as a regular telephone call. A Video Phone is as easy to use as your TV or phone. It's even easy to install, because manufacturers put all the components of ViaTV Phone - a powerful video processor chip, a digital camera and a high-performance modem - in a compact enclosure designed to sit on top of a TV.
As Easy to Setup as 1, 2, 3
<!A HREF="gifs/connect.jpg">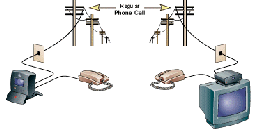 Here's all you need to do to setup a Video Phone:
Set the Video Phone on top of your TV, and connect it to the TV with the supplied audio/video cable. The two parts of the cable are color coded to match the inputs on your TV. For older TVs without audio/video inputs, we have included a TV antenna adapter.
Unplug your telephone from the phone jack (the one in the wall). Plug the Video Phone into that same jack. Plug your touch-tone phone into the Video Phone. You are now connected to the largest communications network in the world, POTS (Plain Old Telephone Service).
Make your first video call by dialing 1 (800) 669-4570 on the touch-tone phone. After our customer service representative greets you, either of you can initiate video by pressing the "#" key. Wait a moment for the menu of options to appear on the screen. Then press the "1" key to start the video connection. After about 30 seconds, you should see the customer service representative smiling at you.
That's it. You are done. You've made your first video call.
By the way, everything you need to install the Video Phone is included: an illustrated, easy-to-follow Owner's Guide; Quick Start Guide (for the video impatient); audio/video cable; two telephone cables (long ones); TV antenna adapter (in case your TV lacks audio/video inputs); and power supply.
Absolutely. The Video Phone conforms to a standard "language" that allows compliant videophones from different manufacturers to communicate. The standard is from the International Telecommunications Union (ITU) and goes by the name H.324. Bottom line?

You can talk to anyone who has an H.324 videophone, whether it is a standalone unit or running on a computer.
Want to know more? Check out the Videophone specs or click on "How to Buy".
To learn more about the products and read what the media and high-tech experts are saying about these new items, visit the Making News section.

Check out Real World User Stories, to read about how ViaTV Phones are being used by people around the country.